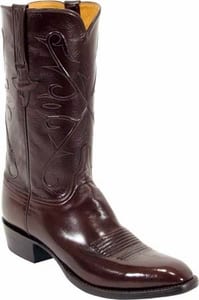 I proudly wear Lucchese cowboy boots. These chocolate brown accessories remain affixed to my feet at work and at leisure. They have even become an integral part of my brand. I get a lot of very favorable comments about my boots; no one ever noticed my upscale dress shoes. That's one reason boots remind me often of the features of innovative service.
Great customer service is like an excellent pair a dress shoes…plain, simple and always in style. But, western boots, while just as dressy as shoes, are typically unique, like innovative service. Most dress shoes are made of mainstream, you've-seen-a-million-pair cowhide leather. Western boots are generally made of something distinctive—ostrich, lizard, elk, or even snake. My Lucchese boots are made of kangaroo—I am sure an old, retired and ready-to-be-reincarnated-into-art kangaroo).
Dress shoes are ordinary polished leather; western boots have an elegantly tooled design as if done by an artist, not by a cobbler. And, like innovative service, boots have storytelling features. The boot's slanted heal is crafted to make it easier to keep a foot in the stirrup of a saddle; the pointed toe is to a horse what the accelerator is to a vehicle. The tall boot shaft helps the boot stay on when suspended from a saddle since there are no laces, elastic or buckles to keep it on.
Customers always enjoy great customer service. But, innovative service, just like a pair of western boots, creates the kind of experience that gets people talking.