Inside Your Customer's Imagination
5 Secrets for Creating breakthrough products, services, and solutions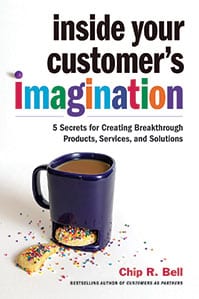 To surprise and awe your customers, bestselling author Chip R. Bell advises developing co-creation partnerships with them. Co-creation partnerships are about fulfilling customers' hopes and aspirations, not just their needs and expectations. In his latest book, Inside Your Customer's Imagination: 5 Secrets for Creating Breakthrough Products, Services, and Solutions, Chip R. Bell shows how co-creation partnerships enable you to tap into the treasure trove of ideas, ingenuity, and genius-in-the-raw within every customer.
"Inside Your Customer's Imagination" helps chart the way to achieving the innovative spark central to a company's success."
— Keith Barr, CEO, IHG (Intercontinental Hotel Group)
Innovation through partnership is the blueprint for business growth in the future. Chip's newest book, "Inside Your Customer's Imagination," provides instruction and inspiration to make it a success."
— Marshall Goldsmith, world's leading executive coach and author of three #1 NY Times best-selling books
Chip Bell's unique perspective, lively illustrations, and practical advice results in one terrific resource for anyone eager to tap your customer's ingenuity for creating breakthrough results."
— Jeanne Bliss, "Godmother" of Customer Experience and co-founder of the Customer Experience Professional's Association.
"Inside Your Customer's Imagination" is a journey into a powerful idea: that innovation is a fundamentally social process—and the more people you invite in and involve as creators and contributors, the greater your innovation capacity."
— Polly LaBarre, co-author, Mavericks at Work and founding member Fast Company magazine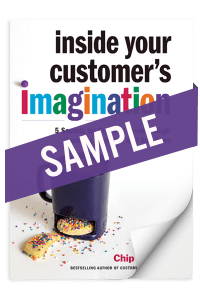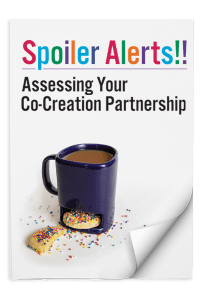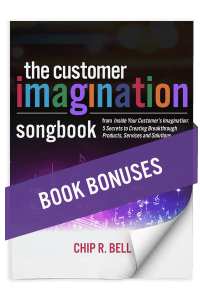 Thank you for taking the time to check out my new book! 
Here are the bonus gifts you'll receive:
The Customer Imagination Songbook
The Customer Imagination Songbook Musical Accompaniment
10 Tips for Co-Creation Partnerships
The Secret Code
Customer Partnership Checklist